The Best Toners For Acne-Prone Skin
Original Article
We only recommend products we love and that we think you will, too. We may receive a portion of sales from products purchased from this article, which was written by our Commerce team.
When it comes to treating blemishes, stronger products aren't always better. The best toners for acne-prone skin add a powerful punch of skin-boosting ingredients to your routine while helping you remove the last traces of pore-clogging dead skin, oil, sunscreen, and makeup that cleansers might not catch. Most importantly, though, these toners won't irritate or dry out your skin, since that can exacerbate acne flareups.
"People with acne-prone skin often use too harsh of toners," says Dr. Deirdre Hooper, a dermatologist who spoke to Bustle for this article. Instead, look for a product that will "not dry [skin] out" while it "gently removes excess oil." Soothing botanicals like green tea are great, and for dry skin, look for lightweight, non-greasy moisturizers like hyaluronic acid.
Toners should be applied right after cleansing your skin and before any serums, acne treatments, moisturizers, or sunscreens. Because acne-prone skin is often in need of ingredients that will help balance your skin and reduce inflammation, it's important to read the labels on toners and choose formulas that are free of alcohol and other potentially harsh chemicals. Those with sensitive skin might also want to avoid witch hazel or skip the traditional toner altogether and instead opt for a gentle micellar water for that final clean, suggests Dr. Hooper.
Many shoppers look for exfoliating toners to tackle acne, and if you're dealing with blackheads, Dr. Hooper recommends looking for toners that contain salicylic acid. Those with unwanted sun spots should opt for glycolic acid, according to Dr. Hooper. However, the doctor notes to make sure you're not over exfoliating. "Stingy or itchy means the barrier is impaired," Dr. Hooper explains. "If it looks oily but feels irritated and red. Your skin is producing excess oil so you end up getting on this cycle that your skin can't get off." After you're done applying toner, your skin should not feel tight or look red. And be sure to follow up with your moisturizer of choice, because even acne-prone skin needs to stay hydrated.
...
10. A Korean Toner Made With Soothing & Healing Botanicals
MEDIHEAL Tea Tree Biome Blemish CICA Toner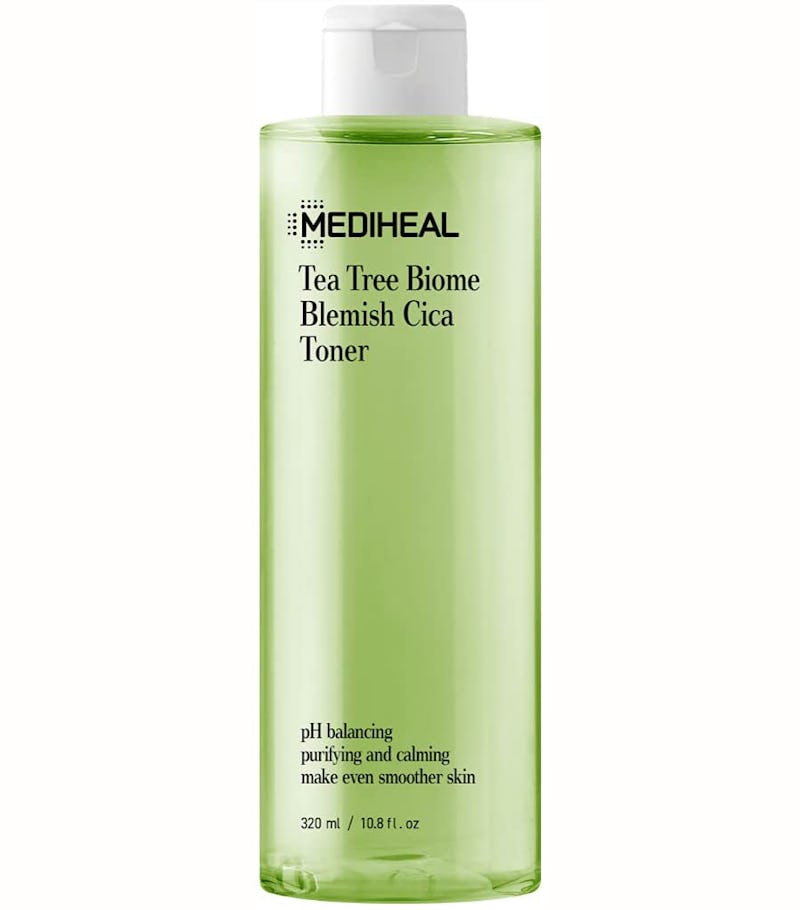 MEDIHEAL is one of the most popular skin care brands in Korea, and now, you can get their products on Amazon. This gentle toner is one of their best offerings for acne-prone skin: It uses a blend of botanically derived ingredients to treat and prevent all types of breakouts, like willow bark, of which salicylic acid is a derivative; madecassoside, which is known for its healing benefits; tea tree, a natural antibacterial and anti-inflammatory; and centella asiatica, a popular ingredient used in Korean skin care for its soothing properties. Combined, this toner will help keep your skin smooth, clear, balanced, and free of the bacteria, pollutants, and other impurities that contribute to breakouts.
User review: "A fantastic toner for sensitive, irritated, acne-prone or normal skin. This felt soothing and hydrating and calmed some of my more irritated areas. The bottle seems like it will last a long time too. Mediheal never disappoints, it's one of my favorite k beauty brands in terms of performance [...] The ingredient profile is pretty clean and minimal, everything is very soothing and has little to no irritants that I could find. It's free of parabens, fragrance, alcohol, and silicone, is fungal acne-safe and adheres to the EU's [stringent] allergen free guidelines. A solid soothing hydrating toner ..."
...