The Best Soothing Products for Sensitive Skin
Sensitive skin comes in many different forms and guises. Whether it's irritation from a long-standing skin condition such as eczema or rosacea, redness or dryness from environmental factors, or your acne-prone skin having a flare-up, it's always wise to be armed with tips and tricks to soothe and calm your skin. Let's look at some of the best practices and products for sensitive skin—buckle in for advice!  
‌‌‌‌How to Recognize Sensitive Skin
Most of the time, it's not difficult to recognize that your skin is sensitive. You may have always had sensitive skin, in which case you most likely have an inherently sensitive skin type. There are also many long-term skin conditions including eczema, psoriasis, rosacea, and more, which unfortunately make your skin highly sensitive. Itching, scaliness, and extreme redness are common for these conditions, and if you have concerns about a long-term skin condition, you should seek professional medical advice. For others, myself included, we don't necessarily have sensitive skin all the time, but our skin can become sensitized if we mistreat it or endure harsh environmental conditions. For example, I have admittedly overdone it on the exfoliants many times over the years, and my skin has become irritated, thin, and dry during those times. Anyone else?
There are several key signs and symptoms to look out for to recognize that your skin may need some extra care and attention:
Flaking and peeling

Itchiness

Redness

Stinging and/or burning sensation

Non-hormonal breakouts

Dryness
Some of these symptoms may be very subtle, which is why it's a good idea to learn about and observe your skin so that you're able to notice when changes or issues arise. If you never have redness and suddenly you have a whole red rash on your cheek, you can assume you're dealing with some sensitivity! So, what should you do if your skin is suddenly sensitive?
‌‌‌‌First Step for Tackling Sensitive Skin
Look at potential causes of your sensitized skin—have you tried a new product recently? Are you using a potentially irritating skin care formula? Have you changed something in your home, like detergent? Or have you been dealing with extreme weather conditions? The quicker you know the cause of your sensitivity, the quicker you can reduce it. Typically, I stop using certain products immediately when my skin feels sensitive. That includes exfoliating, heavily fragranced, and high alcohol content beauty products. Dialing back on any harsh ingredients and going gentle is the best first step to take. Stick with mild products you know and trust. 
‌‌‌‌Gentle Cleansing for Sensitive Skin
When skin is sensitive, one of the main areas to be particularly careful with is cleansing. Removing makeup and washing your face is a prime time for irritation and furthering any sensitization, be it external irritation, acne, or a skin condition.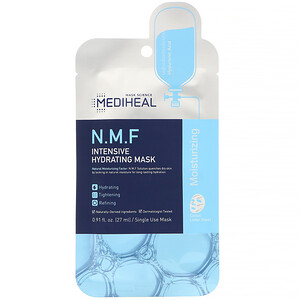 These Mediheal Natural Moisturizing Factors (NMF) Intensive Hydrating Masks contain a variety of hydrating ingredients. They drench the skin in the hydrating essence which can help relieve heat and redness, rejuvenating the skin and priming its condition for healing and repairing.
When skin is sensitized, it can be uncomfortable and irritating. But once you have your tools for targeting sensitivity, you can quickly relieve the symptoms and get skin back to its normal condition. Gentle cleansing, hydrating, soothing, and moisturizing the skin are key central pillars to a sensitive skin routine, and the product picks in this piece are top choices for soothing and calming your skin. 
DISCLAIMER: This blog is not intended to provide diagnosis, treatment, or medical advice. Content provided on this blog is for informational purposes only. Please consult with a physician or other healthcare professional regarding any medical or health-related diagnosis or treatment options. Information on this blog should not be considered as a substitute for advice from a healthcare professional. The claims made about specific products throughout this blog are not approved to diagnose, treat, cure, or prevent disease.